City of Peru Public Services Committee met January 29.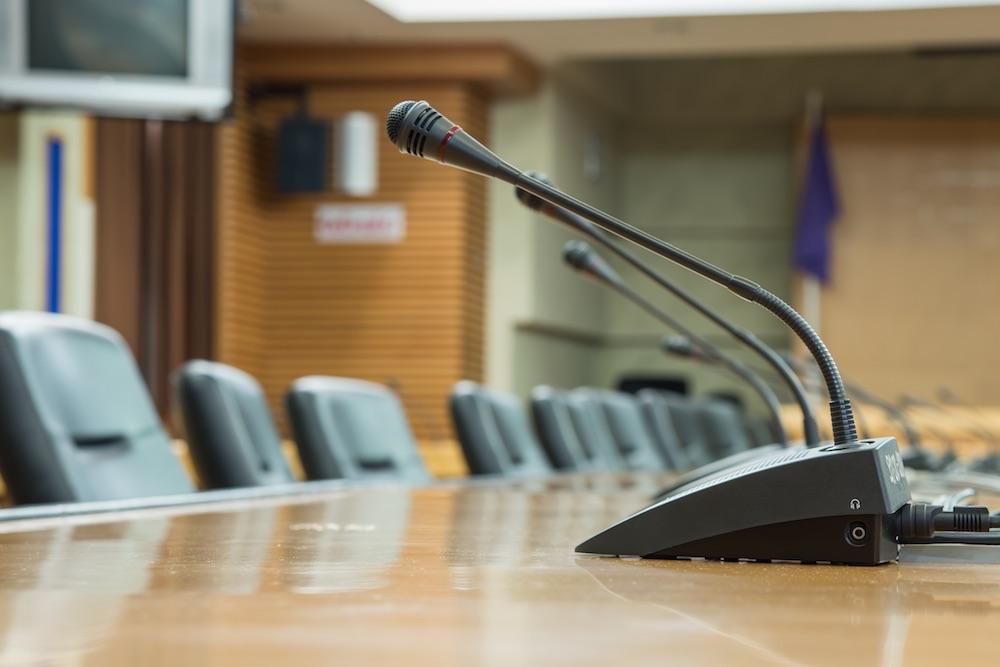 City of Peru Public Services Committee met Jan. 29.
Here is the minutes provided by the Committee:
COMMITTEE MEMBERS PRESENT: Alderman Dave Waldorf Chairman, Alderman Jim Lukosus, Alderman Mike Sapienza, Alderman Ballard, and Mayor Harl.
OTHER PERSONS PRESENT: City Clerk Dave Bartley, Finance Officer Justin Miller, City Engineer Eric Carls, PSM Jeff King, Chris Perra of T.E.S.T., Electric Department General Foreman Kye Kaszynski, and Ashley Kostos.
MINUTES
Chairman Waldorf made a motion to approve Public Services Committee Meeting 1/02/18
Minutes. Alderman Lukosus seconded; motion carried.
PRESENTATION
None
PUBLIC COMMENT
None
WATER & SEWER
PSM Jeff King reported there were 3 water main breaks over the weekend.
T.E.S.T.
None
STREETS & ALLEY
City Engineer Eric Carls discussed the City of Peru Utility Permit and associated ordinance revisions. He stated the City has been using a building permit but will have a form devoted just for utilities and it will help better track what utilities are being completed within city right-ofway and easements. The city s a Program encompasses Plum St. north of Shooting Park Road. Aldermen have met with Carls to review their respective wards plans for the General Fund Street Program.
PSM King discussed the purchase and recommended the purchase of a used 3-ton dump truck (plow) for $28,450.00. The City s mechanic, whom inspected the truck, which has new tires and a D466 motor, believes it will last ten years. A new truck would cost around $140,000. The purchase will be placed on the next council agenda for approval.
ELECTRIC
City Engineer Eric Carls discussed a systems study of a 138 interconnect. Carls stated for economic development, the City of Peru falls short on the electric side. Carls and Electric Department General Foreman Kye Kaszynski have discussed the study with Electric Engineer Verbal Blakely. The study is done by Ameren at the expense of the City. Carls continued the cost and potential will be researched. Mike with the IMEA was present at the meeting and added cost and redundancy were investigated about 10 years ago and large facilities may need more power than what Peru can provide. Carls believes the process could (including construction) take up to three years and added there have been some developments who have thrown Peru out as a location right away because of electric.
LANDFILL
None
AIRPORT
Engineer Carls reported he has been working with Rhonda Baskett and the Division of Aeronautics to develop items for the QBS. The airport engineering contract with Chamlin & Associates has expired and a request will be posted through the Division of Aeronautics and locally. A committee will also be formed.
CEMETERY
Engineer Carls informed there are areas of mold on the ceiling at the mausoleum and a quote from H&H Builders includes cleanup, patching, and two coats of mold-proof paint. The quote is for $4,964.00, which is just under the amount which requires approval from the committee. He added the City will also be receiving a $1,000 credit from the roofing contractor. The last remaining items will be to clean the terrazzo and landscaping. Mayor Harl and PSM King discussed parking and landscaping. Chairman Waldorf made a motion to approve the quote.
Alderman Lukosus seconded; motion carried. City Clerk Dave Bartley will place the item on the next regular council agenda for approval since the public services agenda did not include the amount.
PARKS & RECREATION
Alderman Sapienza reported he and PSM King met with the ark & Rec Board and Peru Little League Baseball to discuss adding a 4th baseball diamond to Washington Park for t-ball. The area in question already has a backstop and they would like to make it into an actual baseball diamond. Approval is needed from the City Council since changes will be made to a park; they will be cutting sod and making running lanes. The Park & Rec budget will fund the project.
Peru Little League is now in charge of t-ball rather than Peru s Park & Rec Board. This item will be put on the agenda for approval at the next council meeting.
Rob Ankewicz, member of Peru Little League, provided a request on behalf of Peru Little League and District 20 to install an announcer/scorekeeping booth at the senior league diamond at Washington Park, where the Central States tournament is currently held annually. Currently, a tent is used and there is no lighting for night games. The proposed booth would be located from the backstop and the bleachers behind the backstop would need removed. LP s building and trades students can be utilized for framing and help cut labor costs. The booth will also have storage area for materials. Materials and longevity of wood vs. block was discussed and Engineer Carls added he believes clock would cost around 20-25% more than wood. Ankewicz stated he will work on getting cost estimates and report back.
CODE ENFORCEMENT/ BUILDING & ZONING
Alderman Sapienza announced Blake Frund will be starting as CSO on February 26th and is much needed.
ENGINEERING
City Engineer Eric Carls reported he has met with Finance Officer Justin Miller to discuss establishing a budget for development of the Ernat farm land located between Plank Road and Peoria Street. He added there are planned projects to take place in that area that require easements and right-of-ways and would like to work on a mater plan for the area. The water main project is planned to be bid the end of February/early March, but construction would not begin until approximately September due to other construction to take place in the area. A motion to authorize bidding of the North Peoria Street Watermain Improvements will be placed on the next council agenda.
Carls provided updates on upcoming projects. The St. John s Storm Sewer project has a pre-bid meeting Wednesday and a bid opening on February 7th. A resolution for expenditure of funds for the 2018 MFT Program will be on the next council agenda. The resolution will be submitted to IDOT to request funds and it can take up to two weeks for their approval. Additional field work needs to be done prior to bidding the General Fund Street Program and it is anticipated to bid around the same time as MFT. The clarifier project is progressing, and the second clarifier is now being installed. The Plank Road project should close-out in the Spring. NCICG provided Carls an update regarding the floodwall grant; questions had come back from FEMA/IEMA and were answered and are hopeful to hear back in March.
Chairman Waldorf inquired about a Church St. project. Carls answered there is an agreement in place with Chamlin for survey work. Field data is being collected and then plans can be developed. Once we have plans, we can submit for permitting, which can take up to 6 months.
There is potential that the first phase of the project could start in 2019, most likely 2020, budget permitting.
BUILDINGS & GROUNDS
City Engineer Carls discussed property demolition bids. A bid opening took place on 1-17-18 for three properties, owned by the city within city limits, to be demolished. The lowest bidder was Kirsch & Co. of Spring Valley at $26,891.00. The contractor did provide a signed form stating he met our Responsible Bidder Ordinance and the City requested supporting documentation as we do for all projects. The contractor provided a list of references but had written no next to the requirements of the responsible bidder ordinance and signed it. The city attorney also discovered Kirsch &Co was not registered with the state or Bureau County Clerk and provided this as a basis for rejection of the bid. Engineer Carls recommends awarding the project to the lowest responsible bidder, and believes we need to make some changes to our ordinance, including having contractors pre-register prior to getting bid specs and plans. Pohar & Sons was the next lowest bidder at $27,142.00. Awarding the project to Pohar & Sons will be on the next council agenda for approval.
OLD BUSINESS
None
NEW BUSINESS
None
PUBLIC COMMENT
Resident Mike Hart asked City Engineer Eric Carls questions about project costs estimates. He also inquired what MFT funds can be used for. Carls answered.
CLOSED SESSION
Alderman Waldorf made a motion to go into closed session to discuss the operation by a municipality of a municipal utility or the operation of a municipal power agency or a municipal natural gas agency when the discussion involves (i) contracts relating to the purchase, sale or delivery of electricity or natural gas or (ii) the results or conclusions of load forecast studies. Alderman Lukosus seconded the motion. City Clerk Dave Bartley called the roll with Aldermen Waldorf, Lukosus, Sapienza, Ballard and Mayor Harl present.
Closed session began at 10:48 a.m.; ended 11:10 a.m.
Alderman Waldorf made a motion to re-open the meeting. Alderman Lukosus seconded the motion. City Clerk Dave Bartley called the roll with Aldermen Waldorf, Lukosus, Sapienza, Ballard and Mayor Harl present.
ADJOURNMENT
Alderman Waldorf made a motion to adjourn the meeting. Alderman Sapienza seconded the motion; motion carried.
Meeting adjourned at 11:11 a.m.
https://www.peru.il.us/minutes/public-services-minutes/2018-ps-2/3941-public-services-minutes-01-29-18/file
Want to get notified whenever we write about
City of Peru Public Services Committee
?
Next time we write about City of Peru Public Services Committee, we'll email you a link to the story. You may edit your settings or unsubscribe at any time.
Sign-up for Alerts
Organizations in this Story
City of Peru Public Services Committee
More News